Tuesday, 31 August 2010
A series of posters "displayed throughout Great Britain by the Construction Industry Training Board", according to the Britannica Yearbook of SCIENCE and the FUTURE, 1973, in an article entitled: 'Will the US Go Metric?'
Posted by

Bollops
at 20:36
No comments:

Monday, 30 August 2010
"I think the murder took place here," he said, pausing at the end of the corridor where it leads to the Bishop Ken Library. "It's worst just here."
By now, I was prepared to accept every word he said. The tension and cold had become almost unbearable..."
He was a psychic, a ghost-hunter. She was a journalist on a fascinating assignment.
Posted by

The Outer Church
at 23:07
No comments:

Preston Manor. The most haunted house in Brighton.
"Wouldn't it be nice/To get on with me neighbours?"
Compact modern Witch House available for viewing now.
Posted by

The Outer Church
at 22:59
No comments:

A belated rejoinder to last week's
post
(Revenge is a dish best served cold)
Posted by

Andrew
at 14:08
1 comment:

pitch for a new TV show: famous people read books to the camera
Its the second world war and the germans are slowly haunting the british isles in their aircraft.. RAF Danby Beacon situated on the north yorkshire moors was an early warning radar station that formed part of the Chain Home network of radar (or Radio Direction Finding (RDF)) stations built by the Royal Air Force immediately prior to the Second World War.
During the first part of the war the station was under the control of 13 Group of Fighter Command. On 3 February 1940 it was a plot from Danby that led Hawker Hurricane aircraft from Blue section, 43 Squadron stationed at RAF Acklington to shoot down a Heinkel 111 bomber over Whitby. This was the first German aircraft shot down over England during the war, the British aircraft being under the command of (then) Flight Lieutenant Peter Townsend.
From the BBC school's Look and Read series which included stories such as 'The Boy from Space' and 'Dark Towers'.
Probably responsible for my boyhood obsessions with dragons and detectives. Theme by radiophonic god Roger Limb. (Titles in a similar vein to 'Watch'.)
Posted by

Andrew
at 12:39
No comments:

I 'found' this gigantic object a few years ago on a visit to Blackpool. It looks like something from a Jack Kirby comic strip. The outer stairwell alone blows my mind, maaaaan
It's 'world famous',
apparently
.
Sunday, 29 August 2010
Inspired by the World In Action titles, I'm posting a couple of other favourite news programmes. Readers who lived in the London area in the 1980s may recall 'The London Programme':



Surely Weekend World need no introduction, but the theme (Mountain's 'Nantucket Sleighride') further illustrates LWT programmers' belief that current affairs meant ROCK!


Posted by

Andrew
at 21:13
4 comments:

Solicitor in Studio
Also, 10 million pounds to anyone who can find a vid of "Don't Ask Me" on the web.
I'm stupidly excited by this. The very day before I found it, I'd been wondering about pylon history - the apparent lack of it - and the fact that they seem to have been installed with little or no fuss from the GBP. (Interesting to note from the foreward, btw, that even in 1962 there were "those who see great beauty in the lines of mighty pylons which stride majestically across our mountains and moorlands").
Anyone know when the first ones went up?

Amelia Elizabeth Dyer
achieved notoriety as probably the most prolific baby-farm murderer of Victorian England.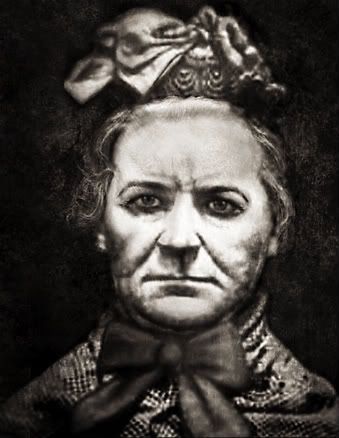 These photographs were taken at Caversham in Reading, Berkshire, where a Thames bargeman hauled a brown paper parcel containing the body of a baby out of the river. The child had been strangled with a bootlace that was still around its neck, and the parcel was weighted with a brick.
Gruesome.




With thanks to Bob Cluness for the suggestion.
I originally posted these pics on my
old blog
3 years ago, but I reckon the
Washford

Radio Museum
definitely deserves it's own post here. For gear-geeks, this is
possibly
one of the most
hauntological
places on earth.